---
---
---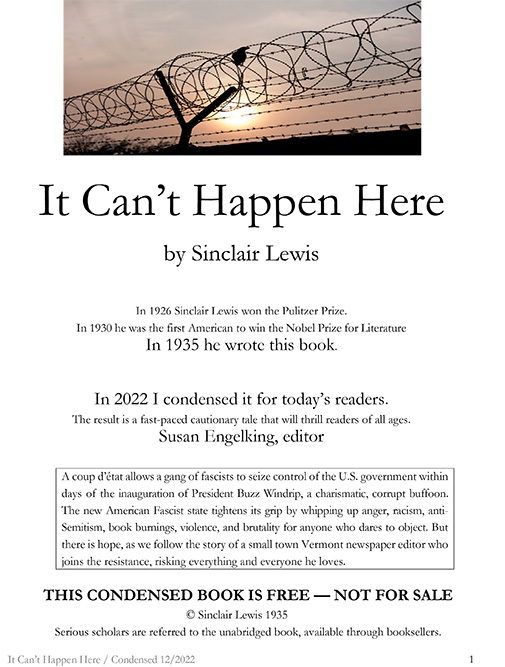 Free PDF download
It Can't Happen Here by Sinclair Lewis
How can we prevent another January 6th? To combat far-right forces, one action is to get this outrageous, gripping thriller into the hands of young people across the U.S. This new revision distills Sinclair Lewis's sprawling 1935 masterpiece to 140 pages. It is now a taut, breathless story for a new generation of readers.
Feel the dread as newly elected U.S. president Buzz Windrip, a charismatic buffoon, and his gang of thugs quickly seize control of Congress, the courts, the military, colleges and universities, and the media.
Ache as democratic institutions—elections, justice, the rule of law, our Constitution—are destroyed.
Experience the outrage as anyone who dares to object is beaten, imprisoned, or murdered.
Follow the story through Doremus Jessup, a small town New Hampshire newspaper editor, as he joins the underground resistance, putting everyone he loves in danger.
Discover this brilliant satire—alternately hilarious and horrifying—written in Sinclair Lewis's mad dash to warn Americans of the rise of fascism, echoing the emergence of Hitler's Nazi Party.
What could happen if America elects a dictator? Sinclair Lewis had already won the Pulitzer Prize and Nobel Prize when he imagined such a scenario in It Can't Happen Here, his most enduring novel. He warns us that it can happen here if we fail to fulfill our most basic responsibility—to protect our democracy from evildoers.
It Can't Happen Here is a must-read for all young Americans, especially now.
---
Tiny Transit: Cut Carbon Emissions in Your City Before It's Too Late
Want to create a groundswell for low cost, climate-conscious micromobility in your city? Think small.
Tiny TransitTM is a how-to guide for cities, mayors and local governments searching for practical ways to cut carbon emissions. Susan Engelking describes an innovative, proven solution: protected networks for small, low speed, low cost vehicles.
In Tiny TransitTM, city leaders and activists learn:
Why LEAN mobility is the future
Lessons from early adopters
How to build LEAN LanesTM with the crumbs of major transportation projects
Why the prime directive is "safety, safety, safety"
How to introduce this game changer in your cities—and the quickest way to build a groundswell of popular support
Tiny TransitTM illustrates safe, low speed low cost, low stress, low emission, climate-conscious mobility for this generation and those to come. For cities, this concept is a game changer. For the nation, this new transportation alternative is a step toward economic resilience, clean air, and energy independence.
---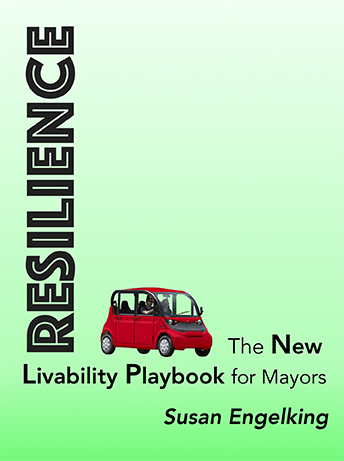 PreOrder Book
Resilience: The New Livability Playbook for Mayors
For mayors and cities, this is the playbook you've been looking for. You'll find answers to dozens of your questions. You'll learn how to use LEAN mobility to enhance your city's economic resilience and connectivity when 'social distancing' is the new normal. You will be welcomed into the LEAN mobility movement, learning along with other innovative cities. Don't stay in your lane!
You will learn why LEAN mobility is the future, and more:
How to create protected networks at a low cost—or even no cost
How to get your community and employers on board
How to build the economic case for your city
How LEAN mobility can spark a Renaissance in your city
Why safety is the prime directive
How to introduce Neighborhood Electric Vehicles—and what to do about golf carts and scooters
How to increase public transit ridership
How to dramatically reduce your constituents' cost of living
Why your city can't afford not to do this
Create a more livable, climate-conscious city—affordably, equitably, and fast.