Livability and Mobility for All
---
The Tipping Point is here–if we give it a push.
---
How do you restart a city suffering a one-two punch? How do you create a more livable, inclusive and resilient city out of these difficult times? The good news is you can do this, and we can help….
Your city can become safer, healthier, more affordable, more vibrant than ever. We can help your city create low cost protected networks for Neighborhood Electric Vehicles and other low speed modes that leave no one behind.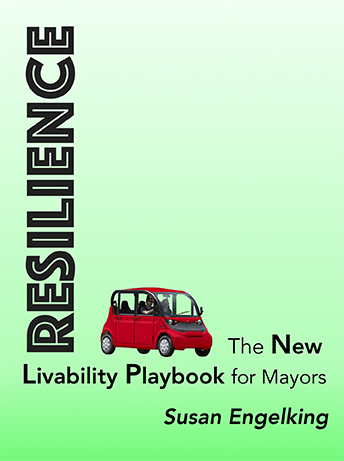 Resilience: The New Livability Playbook for Mayors by Susan Engelking, (2020) Kindle eBook
Want to create a more livable, affordable city for everyone? Think Small.
For mayors and cities, this is the playbook you've been looking for. You'll find answers to dozens of your questions. You'll learn how to use LEAN mobility to enhance your city's economic resilience and connectivity when 'social distancing' is the new normal. You will be welcomed into the LEAN mobility movement, learning along with other innovative cities. Don't stay in your lane!
Susan Engelking has assembled the 'Electric Avengers' in the field of micromobility and LEAN infrastructure systems that benefit cities by making them more livable. Mayors nationwide could benefit from learning more about her vision of how people get around inside the cities of the future.
– Chris Nielsen
Founder and CEO, Electric Cab North America
Susan's forward thinking is a no brainer once you think about it. Safer networks for people-moving mean less auto-dependency, which opens up roads for those who actually need them, like box trucks and long haulers. I like the specificity. It adds a dimension.
– David Knipp
Owner/Operator, Movemint Bike Cab, Austin, Texas
In her engaging style, Susan Engelking walks city leaders though a series of actions to make their cities more livable, affordable, sustainable, and resilient. This is 'thinking globally, acting locally' at its best.
– Linda Wurzbach
President, Resources for Learning, Austin, Texas
Amory Lovins famously said, 'Energy conservation isn't a free lunch. It's a lunch we pay you to eat!' And now Susan Engelking has served up a banquet in her inspiring new book, Tiny Transit. Engelking shows how innovation is already blooming coast-to-coast as cities open the way for small, low-emission vehicles to expand mobility, reduce congestion, advance safety, and cut air pollution—all at a fraction of the cost of conventional infrastructure.
– Professor Michael Wheeler
Harvard Business School, Boston, Massachusetts